Teachings, Events, Courses
Sunday Teachings with Geshe-la
Teachings are closed for the Summer, opening again around March 2022 
The text for 2021 is The Thirty-Seven Practices of the Bodisattvas
Where: Jam Tse Dhargyey Ling Buddhist Centre, 159 Parakiore Rd, Whangarei.  (map)
Description: On Sunday Mornings, our resident spiritual teacher Ven. Geshe Sangey Thinley – fondly known as 'Geshe-la' gives a teaching and spiritual advice based on a life time of training and knowledge. Classes are translated by Anton Weiersmuller. 
All Welcome: The class and talk is open to anyone who wishes to attend.  During these challenging times please get in touch with us before attending.
After the teachings there is time for questions and a cup of tea.
Community Days: On the first Sunday of the month we have a shared lunch (please bring along a vegetarian dish to share).
Then for those who are able to stay we spend a bit of time working/laughing/creating good karma together helping the monks out with some chores around the centre – gardening, painting, cleaning etc. Bring your tools and a happy heart <3
Workshops and Retreats
The Next Weekend Workshop is yet to be scheduled
Retreat:
Date: 
Where:
Time:
Geshe-la will teach in Tibetan and his teachings will be translated from Tibetan into English by Anton Weiersmuller.
ALL WELCOME       Please register by filling out the form below.
Attending the weekend classes:
It's most beneficial to attend the whole weekend – however some is better than nothing…. so if you are only able to attend one or two of the sessions – please let us know.
Weekend Schedule:
Saturday and Sunday
* 10am: Teachings by Geshe-la
* 12pm: Shared lunch (bring a dish to share)
* 1:30 pm: Lead discussion group
* 3pm: Teachings by Geshe-la
Teachings will finish at 5pm
Monday
* 10am: Teachings by Geshe-la
* 12pm: Shared lunch (bring a dish to share)
* 1:30 pm: Lead discussion group

Who can attend:
The teachings are open to anyone to attend, one does not have to be a Buddhist to attend or benefit from these teachings.
Cost:
Teachings are always offered free of charge – however a donation of around $50 per person towards costs is advised, or anything you are able to offer. Please do not let the lack of finances prevent you from coming. 
All donations are tax deductible.

Accommodation: You will need to find your own accommodation, although we do have members in our community happy to billet 
Register by:
–  Email us: dharmanewzealand(at)gmail.com
Meditation Classes and Courses
Current 2022    At present we are sorry but we have no Meditation Classes Running 
Guided meditation classes.     
Meditation is such a wonderful gift we can give ourselves on the path to learning how to have a more peaceful calm mind and heart, bringing benefit to oneself and others by developing mindfulness in daily life.
All classes are open to all – Non-Buddhist and Buddhists alike.
For first timers we highly recommend you attend the Beginners Meditation course as these courses are directed for people who haven't meditated before and your questions and experiences can be better discussed.
Weekly guided meditations:

At Himalayan Trading Post, 89 Cameron St, Whangarei.
All Welcome no need to register.  Cost: $5 Donation
---
Beginners Meditation Course with Experienced Buddhist Practitioner
2022 schedule yet to be confirmed
Held Regularly – 
At Himalayan Trading Post, 89 Cameron St, Whangarei.
Please email us if you are interested in the next class  Registration is required.
The Beginners Meditation course is a four week course taking place at Himalayan Trading Post from 5:30pm to 7:00pm various times during the year.
The course is designed to teach you basic meditation techniques. You will be practicing short meditations which are lead by an experienced meditator.  Each meditation is followed by open discussion.
To cover costs we suggest a $20 donation, $5 per night. (cash or internet banking available only NO EFTPOS sorry )
To register for this course:
It is important to register as we have a minimum and maximum number required for each class.
Introduction to Buddhism scheduled for 2022 yet to be confirmed.
Ever wondered what  Buddhism is all about? Maybe you already know a little and wish to learn more.
Like it, but not sure? A little curious about what it's about.
You are welcome to come along to this course and discover it for yourself.
The course is based on a wonderful series of half hour DVD's focused on a different subject each night, with an introduction by either Richard Gere or Keanu Reeves. Various brilliant teachers then explain Buddhist concepts clearly. From this we base our discussions and here you have a great opportunity to ask questions and expand your knowledge with a local Buddhist practitioner.
The 8 week course is aimed at giving an overview of the Mahayana Buddhist path so that participants gain a deeper understanding of what Buddhism is about and the tools to more effectively decide if it is the spiritual path they would like to pursue further or not.
Classes run throughout the year dependent on interest, and are held during the evening. Starting at 5:30pm
They are held at the Himalayan Trading Post, 89 Cameron Street, Whangarei.
(next door to the Piggery Bookshop and across the road from the Police Station)
Tibetan Thangka Painting Classes
Tibetan Thangka Painting Classes with  Ven. Nyima Gyaltsen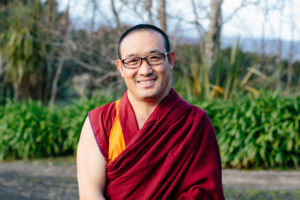 Ven. Nyima Gyaltsen has accepted our invitation to come to our centre to run several courses and workshops on Tibetan Thangka Painting and Iconography here.
Weekend class:
Where: Jam Tse Dhargyey Ling Buddhist Centre
Time: Saturday 1:00 pm – 4:00 pm
Cost: $20 per Lesson
( Materials to be supplied by the student )
Weekly classes: Every 2nd Wednesday 1:00 pm – 4:00 pm. Please register your interest and we will send you exact dates and materials.
Classes cost $20.00 per class.
Weekend Workshops:  There will be 8 weekend workshops starting (dates yet to be confirmed). Each workshop will run Saturday/Sunday 9am-3pm. Each workshop will focus on a different subject and can be taken independently of each other. Numbers are limited to 6 students.
Classes cost $120 for each weekend.
Knowledge of Tibetan art and Buddhism is not required.
All classes will be held at the Centre
For more details on these classes, and to register please click on the following links